Among the many data elements on Phish.net, users' ratings of shows receive a disproportionate amount of critique. They are generic by design, suspected of some biases, and used differently by different users.* But despite their flaws, the ratings are still informative**.
We'll start with an arcane issue: how show performance varies by day of the week. While some fans may love the Friday/Saturday blowout, many warn to "never miss a Sunday!". Similarly the band's "you snooze, you lose" mantra has emphasized that sparks happen in expected places on unexpected nights. An analysis of show ratings helps to consider each of these ideas, as well as to identify some interesting variations.
All at Once
First, let's look at the ratings*** for all 1701 known shows. If we take the average rating for each show, and then average those averages by weekday, Sunday is indeed tops - with a mean average of 3.87 just edging out Friday (3.82) and Saturday (3.85). However, the averages alone don't vary much, as the lowest (Monday, at 3.69) isn't much lower. Meanwhile, variance (differences from the average within each group) do vary. So, let's look at that...
Of those that have been rated, only a third have average ratings below 3.57, while a third have average ratings above 4.13. That's stilted towards the high end, but still involves sufficient variation for comparisons. Or, treating the ratings as an indicator of performances, Phish shows are typically hot – but they're not all equally so, and how hot they are varies, even across the week.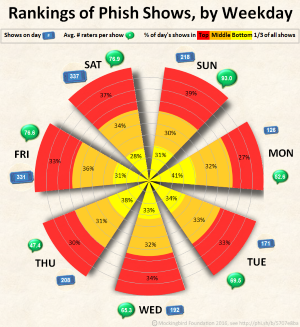 This stacked-petal polar chart**** uses red for the hottest third, and yellow for the bottom third. Each spoke within it illustrates how that day's shows are distributed across these thirds. (Icons outside each spoke indicate how many shows happened that day and the average number of raters for each of them.)
If you lose by snoozing, it's not on Monday: 41% of Monday shows are in the bottom third, while only 27% are in the top third – respectively, the highest and lowest proportions of any in the chart. Saturday seems least risky, with the smallest proportion at the bottom (28%); but Sunday more often had the highest payoffs, with the largest proportion (39%) in the top third. Of the rest, Friday fared best, while Tuesday and Wednesday were "merely" consistent, with about a third of each day's shows in each third of all shows.