Already, rumors are spinning about various stops on an anticipated summer 2015 tour. Wherever it's stopped, and whenever it's announced (likely on a Tuesday, late February?), it's almost certain to happen: Phish 3.0 is all about the summer tour.
For most of this chart, each row shows a calendar year (Jan 1 to Dec 31), with a vertical blue sliver for each Phish show. Three heatmaps summarize those 32 years: The darker blue the sliver, the more shows occurred on that day of the year. In all rows (the 32 years and the heatmaps), dates without shows stay white.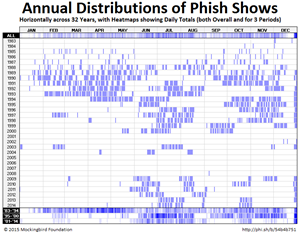 The top multi-colored row is based on a sum across all 32 years, and shows that Phish shows have historically been distributed roughly evenly across the calendar year, with only three exceptions: There have never been shows most January days, several days around the start of the school year, and the third week of December. But glance down the chart (where each row is a different year) and see both noticeable gaps and shifts in where they happened.