Fans attending the shows in Atlantic City this week should be advised of the following Public Safety Notice from Boardwalk Hall:
For fans attending any of the 2013 Phish concerts at Boardwalk Hall, please make a note of the following information:

* There will be a strict no bag policy for these shows. No bags of any kind will be permitted into the arena.
* Public parking at Boardwalk Hall will not available from 10/30 through 11/3.
* One 20 oz. factory sealed or empty plastic water bottle per person will be permitted.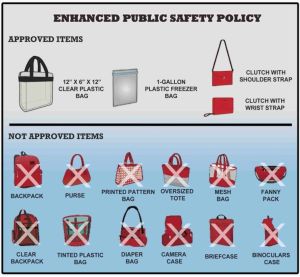 Guests are reminded to arrive early, as they will be subject to a physical search and/or metal detection prior to entering the facility.

In addition to the above policy, please note other prohibited items:
* Alcoholic beverages, controlled or unlawful substances and controlled substance paraphernalia
* Items which could be used as weapons, such as firearms, knives, chains and spiked jewelry
* Cans, glass bottles or coolers.
* Outside foods or beverages
* Professional cameras, audio or video recording devices and tripods
* Mobile tablet devices and laptops
* Laser pointers and pens, pepper spray and Mace
* Noisemakers, such as airhorns, fireworks, Frisbees, balls and other projectiles
* Any other item deemed unacceptable by the event or building management
Boardwalk Hall does not provide storage for any confiscated articles, so visitors should leave these items at home or in a secured area prior to arrival at the venue.
Building re-entry: Please note there is no re-entry upon exit from the building.
On behalf of the Boardwalk Hall management team, thank you for your patronage and cooperation and enjoy the shows!